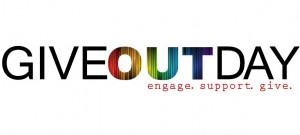 Please join the Capital City Men's Chorus, (CCMC), and be part of the first ever, nationwide day of LGBTQ giving! "GIVE OUT DAY" is a national campaign to raise awareness and funds for LGBTQ causes like the Capital City Men's Chorus. It will be a powerful statement of what we can do collectively, on this one day, by coming together and saying: "I believe in you and what you do!"
As we embark on our landmark 25th Anniversary Season, we are requesting your generous support, which will go towards helping the CCMC continue to touch and transform the lives of LGBTQ people in the Austin, TX community and across the nation. A big portion of our outreach next season will see us performing as part of the national tour of "It Gets Better", this September at the Long Center here in Austin.
On May 9th, 2013, the LGBTQ and ally community will come together for Give OUT Day, and we need YOU to join us. It is 24 hours of unprecedented LGBTQ giving and it's your chance make a real difference, right here in OUR community.
Show your love through Give OUT Day, and help sustain this amazing organization, which gives so much to our LGBTQ community.
Join me in supporting our community on May 9th, 2013, by donating online