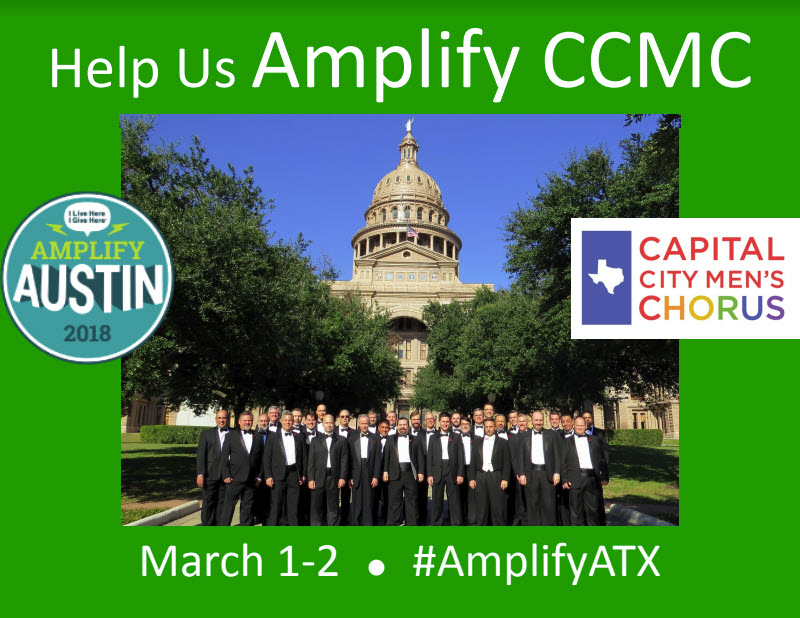 Help us #AmplifyCCMC by participating in this year's Amplify Austin Day, Austin's citywide day of online giving! Gifts made to the CCMC through Amplify Austin support our artistic programs and concerts. Amplify Austin Day is a 24-hour online giving day that takes place 6pm March 1 through 6pm March 2.
The Capital City Men's Chorus is gay men and their allies raising voices in song to change minds, transform lives, and build community. Thanks to all our supporters and donors, the chorus has been able to make great music for 29 years!
The CCMC is a growing organization. Over the past few years our annual budget has grown steadily, and with it, our ability to deliver on our mission. In addition to our concerts, we host social events and sing for other organizations. Our singing, rehearsing, and fund-raising keep us very busy.
We are asking for your donation, because our ticket sales cover only about 25% of our expenses. So, we rely on fundraising events like Amplify Austin, a City of Austin Cultural Contract, program advertisements and individual donors for a significant portion of our annual budget. We carefully manage our funds and 89 cents of every dollar received goes toward our mission and concerts. The CCMC has earned the GuideStar Exchange "Silver Participant Certification" for our transparency in reporting our mission and financial status.
This year we've set an ambitious goal of raising $5,000 in 24 hours and we need your help! Your support will help the CCMC, the longest continuously running Gay Men's Chorus in Austin, continue to provide the Central Texas community with the quality concerts that they have come to expect and allow us to fulfill our mission of raising our voices in song to change minds, transform lives and build community.
Learn more and pre-schedule your Amplify Austin gift to the Capital City Men's Chorus today!