The Capital City Men's Chorus was honored to be selected as part of the community chorus for the It Gets Better tour.
It Gets Better
September 20, 2013 @ 8:00 pm
Long Center Dell Hall
A collaboration by L.A.'s Speak Theater Arts, The Gay Men's Chorus of Los Angeles, and the It Gets Better Project, this musical performance provides a performing arts response to the difficult issue of bullying, one of the most challenging issues among today's young adults and adolescents. The performance at the Long Center will involve a number of Austin musicians, including members of Conspirare, the Capital City Men's Chorus and others, in a program designed to inspire and open minds.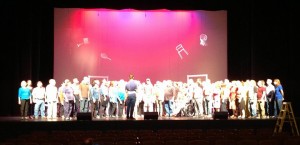 The It Gets Bet­ter Project was founded in Sep­tem­ber, 2010, when the first it gets bet­ter video was uploaded to YouTube, ignit­ing a world­wide phe­nom­e­non. That video offered a des­per­ately needed mes­sage of hope to les­bian, gay, bisex­ual and trans­gen­der (LGBT) youth. It urged them to tough it out through the bul­ly­ing and other chal­lenges that con­fronted them in their teenage years, and described the pos­i­tive future they could expe­ri­ence as adults. It told them that no mat­ter how dif­fi­cult things may be today, it gets bet­ter. Today, the mis­sion of the It Gets Bet­ter Project is to com­mu­ni­cate to LGBT youth around the world that it gets bet­ter, and to help effect the changes nec­es­sary to make it so.